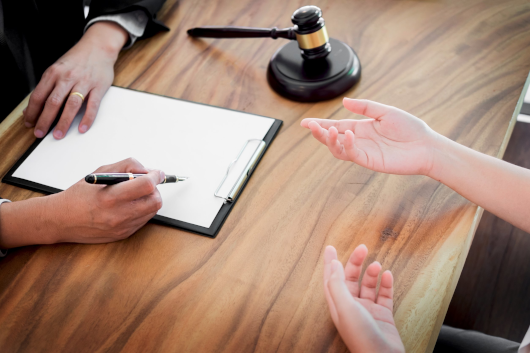 If you would like to discuss your particular case, please call (318) 377-0123 for more information and a possible meeting time may be arranged.
No fee is charged for the first office visit on cases regarding personal injury, wrongful death, oil or gas problems, medical malpractice and some other areas.
Do I Have A Case?
When you call, we will evaluate your case to determine whether or not we think your case has merit and determine if it meets the criteria for one of the types of cases we handle. We often do not charge anything for the first telephone interview where we determine if the case is one we could accept.
Usually, it takes more of a thorough "workup" and investigation to determine if a case really has merit. Often cases that look good to the client or look good to us at the outset turn out to have serious problems.
Some examples of problems we often see are:
The party at fault has no insurance.
Your doctor doesn't want to get "involved" or go to court.
Your doctor won't issue a written report saying you have suffered any serious damages.
You have already given a statement to an adjuster that, unknown to you, seriously weakened your case.
It is too late to bring your claim?
You have already let the insurance company tow your car off without first taking pictures which would have proven the angle of impact or intensity of the impact.
You waited too late to call us and don't have the evidence or names of witnesses.
Time IS Limited!
Therefore, you should contact us as soon as possible after a car wreck or injury. Hiring us does not mean you are going to sue. We typically settle most of our accident and injury cases.
Don't let time limits go by! Don't let the evidence "fade" away over time or the witness' memory gets vague. Skid marks on the highway can prove speed but they are gone in a few days.
Contact eyewitnesses at the scene and get their name, address and phone number.
Take pictures of the accident scene from several angles. More is better.
Let us get involved early so we can take the witnesses' statements before the insurance adjuster does it in a way that ruins your case.
Take pictures of your injury while the severity, bruises and injury is evident. Once it heals it usually won't look very bad at all.
In Louisiana,you must file suit on an auto wreck and other personal injury cases within one year of the date of the accident. Thinking the adjuster is going to settle and pay you is not an acceptable excuse to let one year pass by.
For medical malpractice cases in Louisiana, there is a more complicated rule: you must make your claim at a certain place one year from the date of malpractice with an exception for when you don't find out (discover the malpractice) until later; then you must file your claim within one year from the date you discovered (or should have discovered) the malpractice. There is an overriding cut-off of three years – no matter what – from the date of malpractice. After 3 years from the date of malpractice almost all hope is gone unless you can prove the doctor lied to you and/or actively took steps to hide it.
How Much Money Will I Get?
Many lawyers try to get hired by tossing out large settlement figures called "highballs" in order to impress a potential client. We don't do that. There is usually no way an attorney can truthfully tell you at the start how much he is going to recover, because he hasn't seen yet what your doctor will say, or whether or not he will back you up on the extent of your injuries and pain and will come to court and testify for you. We also don't have any idea who will be on the jury or how reasonable the insurance adjuster or insurer's attorney will be.
Lastly it depends on how long you have pain and problems and if you are left with any permanent problems. That is an important factor if it goes to trial.
A meaningful assessment can only be made after the case has been studied and the possible defenses analyzed. How much a case is worth depends on many factors, such as:
The applicable law, such as a driver who wrecks making a left turn, is presumed to be at fault and usually will get nothing.
Your doctor's written opinion to us about how badly you are hurt and will he back you up?
Will you have permanent disability or get well in a few months? Is your injury something a jury can see and understand as opposed to complicated and highly technical medical problems with difficult to understand medical "jargon" such as being diagnosed with "compartment syndrome"?
Is liability clear (who is at fault) or will it be disputed? If you are found to be half at fault your claim is reduced by one-half for your own fault.
Is there enough insurance coverage available for a full recovery? The average driver cannot pay a large judgment. Thus, for a large recovery you need the party at fault to have insurance with high limits.